CCIS Board of Directors listing:
Tim McCoy - Chairman
Ron Peters - Vice Chairman
Directors:
Bob Birmingham, Alex Swartwood, Joe Swan
Steve Toadvine, Priscilla Hostetter, Brenda Prescott, Lori Peters

For more information contact:
Men's event - Ron Peters - repeters6@gmail.com
Tim McCoy - tmcoygroup@gmail.com

Women's event - Brenda Prescott - brenpres1069@aol.com
Lori Peters - hp66666@comcast.net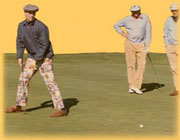 Trivial Nonsense
In the first 50 years of play, there have been five "holes in one" and none since the committee purchased awards for the preparation of the next one. The tournament has experienced every form of weather conditions including snow and in the last 25 years we have only lost two rounds because of unplayable conditions at a host course.
Some CCIS Facts at age "50"
The tournament started as a member guest with invitations sent to the members of the three clubs and 32 teams, two flights of 16 each competed in match play. Dick Chapman ran the first tournament and in his third year, Joe Paterno began his long term as the chairman. The original match play format continued until 1961 when the present format was introduced. No longer a match play tournament, the field was increased to 54 teams with most of the early additional teams coming from off the Cape.
After Joe died in 1976, Norm Boucher, who had served with Joe, became the chairman and in 1990 governance by committee was established. All of the committee members have been associated with the tournament for many years and under the able leadership of Jack Crosby, Pete Davenport and then John Davenport. It is a tribute to the organizational skills of Pete and John Davenport that the 50th year celebration was able to continue in spite of John's untimely death this summer.
The Cape Cod Indian Summer continues to be a very popular event.
Scoring Speaks Reams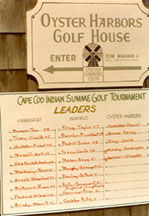 Data for the past years confirms a number of comments at the scorer's table. Hyannisport plays to an average of minus (2.36) with 1997 the best year for the field at minus (1.19) when 13 teams beat par. Wianno played to minus (3.54) during the same period and 1998 was the best year at minus (3.02) when 7 teams beat par. Oyster Harbors has been far friendlier with a scoring average of plus 1.25. With an average lower host handicap index and lower guest handicaps, because of the increasing youth movement, scores should continue down. In a tournament dominated for a number of years by older players, there are fewer senior teams than in the past.
However, the format still demands strong play and the overall average for teams is minus for the three days. Par remains a tough competitor.